Osh is the perfect starting point for any journey into the Pamir Mountains — whether you want to stay in southern Kyrgyzstan or continue on along the epic Pamir Highway into Tajikistan. The Pamir region offer wonderful opportunities to immerse yourself into the magnificent nature and engage with local cultures and people.
The Pamirs are a magical place has lured travelers and adventurers for millennia, from Alexander the Great in 329 B.C to the British and Russians during the Great Game of the 19th century to present day. Each year, thousands of tourists make the journey into the Pamir Mountains for its untouched virgin beauty, stunning mountain landscapes, and the hospitality of the Alay and Pamiri peoples.
Most journeys and tours from Osh will take you through stunning mountain vistas in the Alay Mountains and then pass by snow-covered Peak Lenin at an impressive 7,134 meters (23,410 feet). Many continue their journey deeper into the Pamir Mountains along the famous M-41 Highway (aka, Pamir Highway). On some occasions, you will even have a chance to see Afghan and Chinese settlements along the borders. And finally, don't miss an opportunity to go through the beautiful and fascinating Wakhan corridor in Tajikistan filled with small villages and incredible Pamiri hospitality.
However, trying to organize and plan a journey into the Pamir Mountains or along the Pamir Highway can be challenging as there are many different transport and tour options. This Pamir Mountains Trip page is meant to help you answer some of those questions, and to offer our help to put you in touch with our trusted local partners for trips into the Pamir Mountains. Whether you're interested in just a few days, or a full 7 to 10-day trip along the Pamir Highway from Osh, Kyrgyzstan to Dushanbe, Tajikistan, get in touch and we'll assist in finding the right trip for your needs and interests.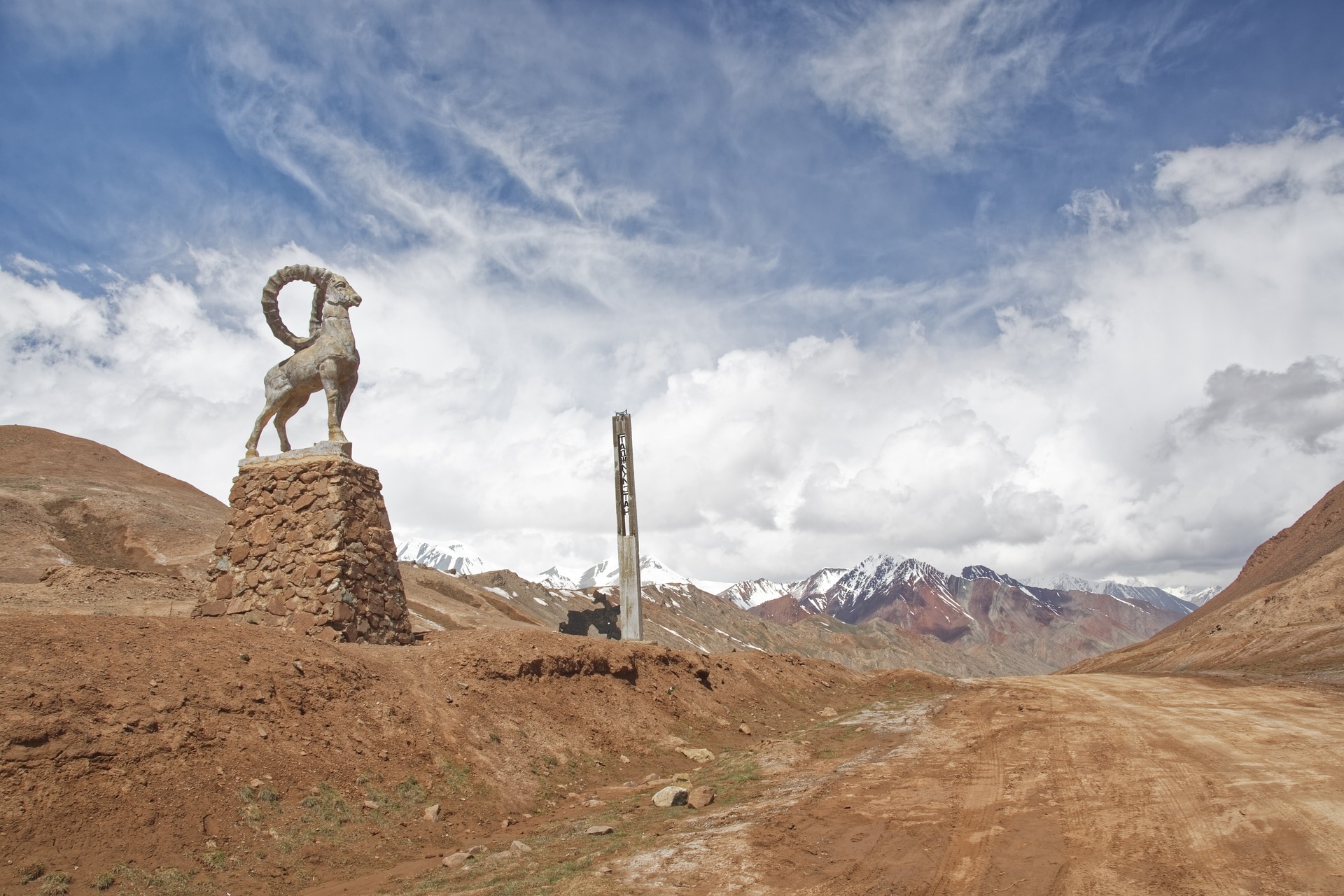 High mountain Kyzylart – Bor Dobo (4,280 m) border crossing between Kyrgyzstan and Tajikistan along the Pamir Highway.
Transport into the Pamir Mountains and Pamir Highway
There are several different transportation options for travelers wanting to go into the Pamir Mountains and travel along the Pamir Highway:
Public Transport to the Pamir Mountains in Kyrgyzstan
From Osh there is the option of taking public transport - marshrutkas or shared taxis - to villages like Sary Mogul or Sary Tash that are jumping off points for nearby treks and activities. Check out this transportation chart for current marshrutka and bus times from Osh.
Shared Taxis to Khorog in Tajikistan
If you have a flexible schedule and a lot of patience, it is possible to find on some days shared taxis from Osh to Khorog, the first main town in Tajikistan along the Pamir Highway. These leave from the new bridge in the center of Osh, not far from Kurmanjan Datka Street.
However, these vehicles don't leave on a regular schedule and are usually very crowded, so if you really want to enjoy the scenery and experiences along the Pamir Highway we recommend you hire a driver or go on a Pamir Highway tour.
Private Transport Along the Pamir Highway
Although more expensive than public transport, having your own driver and 4WD vehicle allows you to set your own schedule, pace and route. This will allow you to take breaks in villages, stop when you want for photos of the incredible mountain vistas around you, visit historical and ancient sights, and perhaps even incorporate some trekking along the way.
As the roads into the Pamir Mountains and along the Pamir Highways can be challenging, we recommend taking a sturdy 4WD and hiring a driver who knows the route well. Your driver can also make recommendations for activities, accommodation and food along the route.
Vehicles usually fit four passengers and are priced per vehicle. So, if you are a solo traveler it's best to ask around to see if you can join a group to share the costs of the vehicle and journey. Get in touch with us at Destination Osh and we can connect you with one of our trusted transportation partners and also ask about spaces available in existing departures if you want to join a group.
Planning a journey along the Pamir Highway.
Pamir Mountain and Pamir Highway Tours
If you want to have your logistics taken care of you — transportation, accommodation, food — while still having some flexibility in schedule and itinerary, then taking a Pamir Mountain or Pamir Highway tour might be the best option. This allows you to focus your time and energy on the stunning mountains and experiences around you without worrying about the details and logistics.

Several of our trusted partners offer Pamir Highway tours from Osh that can take you to either Khorog in the Pamirs or all the way along the M-41 to Dushanbe, the capital of Tajikistan. These also include visits to historical sights, option to take short treks, and other stops along the way. Get in touch with us at Destination Osh and we can help make arrangements for you.

;