The same aspects of Osh that make it such a great place to live makes it pleasant for travelers, too. The city's wide and shady streets lead to large and sprawling parks that locals use for socializing, relaxation, and enjoyment. The city's main monuments, mosaics, and attractions are all concentrated in a central downtown area, as are the main bazaars and markets. This means you can easily pass through the city's best parks en route to any of the main sites around town. And, in fact, that's exactly what we do on our Free Osh Walking Tour, which takes in many of the most popular historic sites and attractions mentioned below.
With so many pleasant areas of the city, why not stay a while, take a stroll through town, poke around one of Central Asia's oldest bazaars in search of the perfect souvenir, and discover just why so many locals could never imagine living anywhere else.
If you would like a customized tour of Osh's main historical sites and attractions, we can organize specialized tours with one of our WFTGA internationally certified guides or junior guides who are fluent in English, Russian or Turkish languages. Please get in touch with Destination Osh or check out the tour guide page for more details and costs.
Osh: Top Historical Sites and Attractions
Sulaiman-Too Mountain (UNESCO)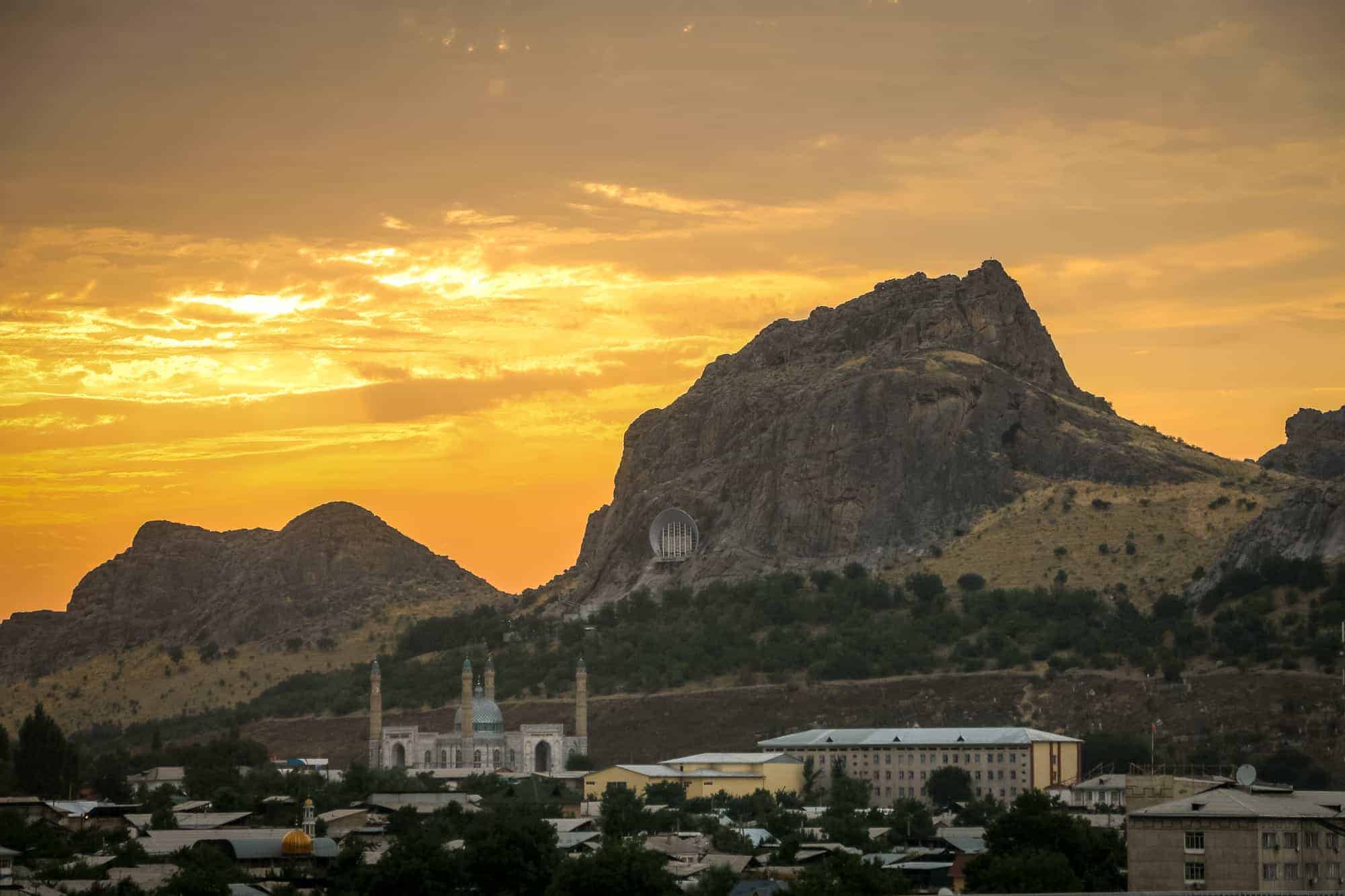 Rising from the heart of Osh, Sulaiman-Too Mountain is a UNESCO World Heritage Site filled with legends and history. Named after the Biblical and Qur'anic Prophet Solomon, this towering mountain has served for millennia as a sacred location for Zoroastrianism, Shamanism, and Islam. It is believed that the prophet Solomon prayed here attracting Muslim pilgrims from far away, even to this day. During the Silk Road era, the mountain was a beacon that marked the halfway point along the road's East-West route, guiding traders and caravans. Babur, the founder of the Mughul Empire in India in the early 16th century, spent some time meditating on this sacred mountain before continuing his journey to South Asia. Even today, local people, pilgrims, and travelers visit Sulaiman-Too, its sacred caves, diverse petroglyphs, and the Asif ibn Barkhiya Mausoleum. With sweeping panoramic views and great local cultural significance, time atop Sulaiman-Too is something you should not miss. Discover it independently or book our Sulaiman-Too Tour, which offers an interactive journey with a local English-speaking guide who will provide stories and context to make this fascinating site come to life.
There are several options to enter the Sulaiman-Too Complex:
- From the intersection of Kurmanjan-Datka and Craftsmen Streets
- From the Gapar Aytiev 16a entrance (behind the Osh Ordo Cafe).
- From the intersection of Gapar Aytiev and Shota Rustaveli Streets
The main site is open sunrise to sunset. Museum is open: 9:00-12:00, 13:00-18:00. (Mausoleum hours are sporadic)
20 som (mountain)/150 som (museum)
500 som per person (min. 3 people)
Ravvat Abdullahana Mosque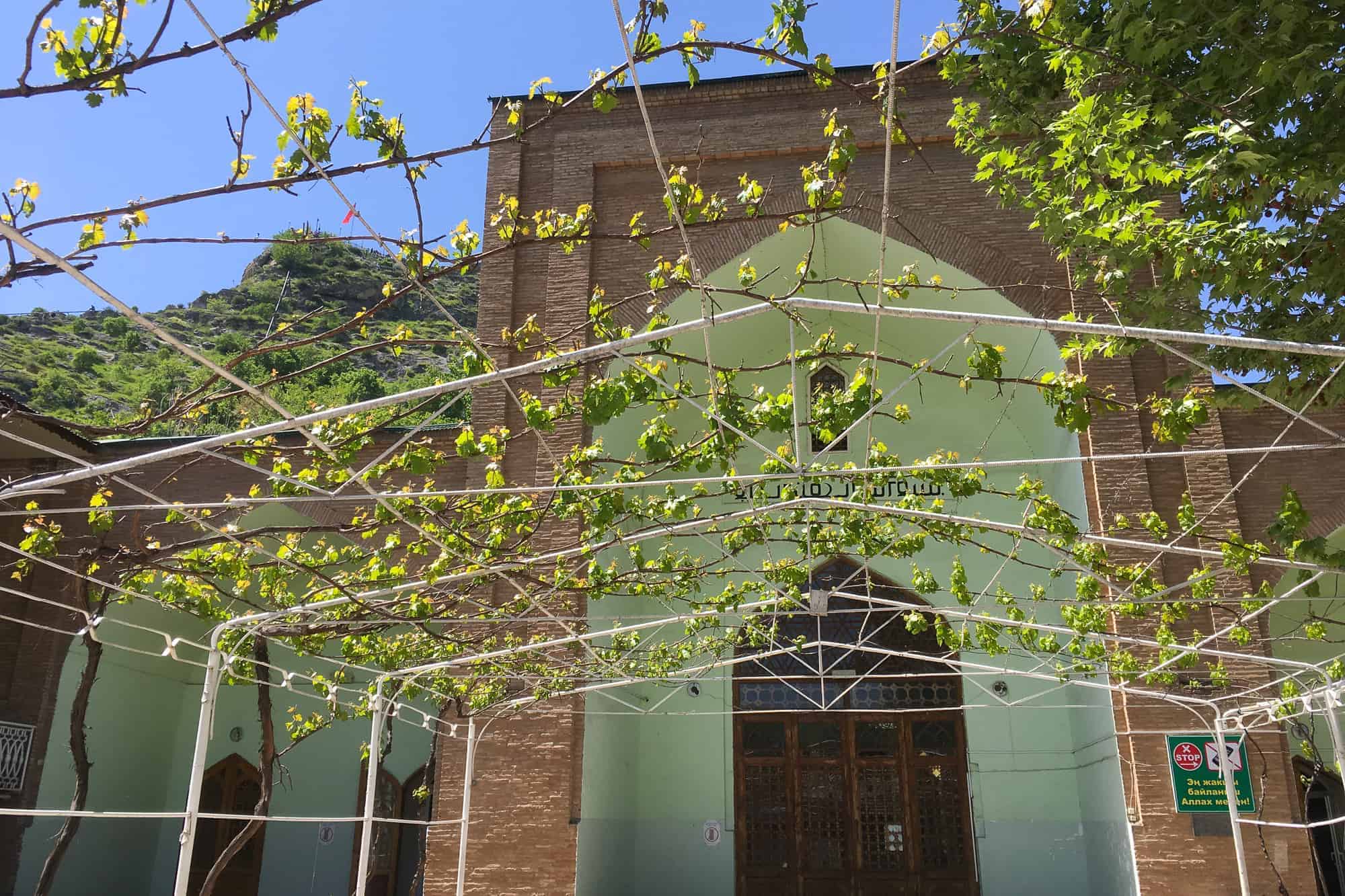 Dating to the 16th century and located under the eastern slope of Sulaiman-Too Mountain, the Ravvat Abdullahana Mosque is the oldest mosque in Osh. Locals contend that it's among those built by Abdullah Khan II during the Shaybanid Dynasty, which would make it one of only two such mosques still standing today (the second is in Navgilem, Tajikistan). The main building is still well preserved despite renovations and reconstruction efforts over the years.
Note: The inside and prayer rooms are reserved for males only; women dressed conservatively (head and shoulders covered and below-the-knee bottoms) can enter the yard and enjoy the mosque architecture from outside.
Col Onorchulor St. (base of Sulaiman-Too)
Daily, sunrise until final prayer.
Free, but you should ask permission first.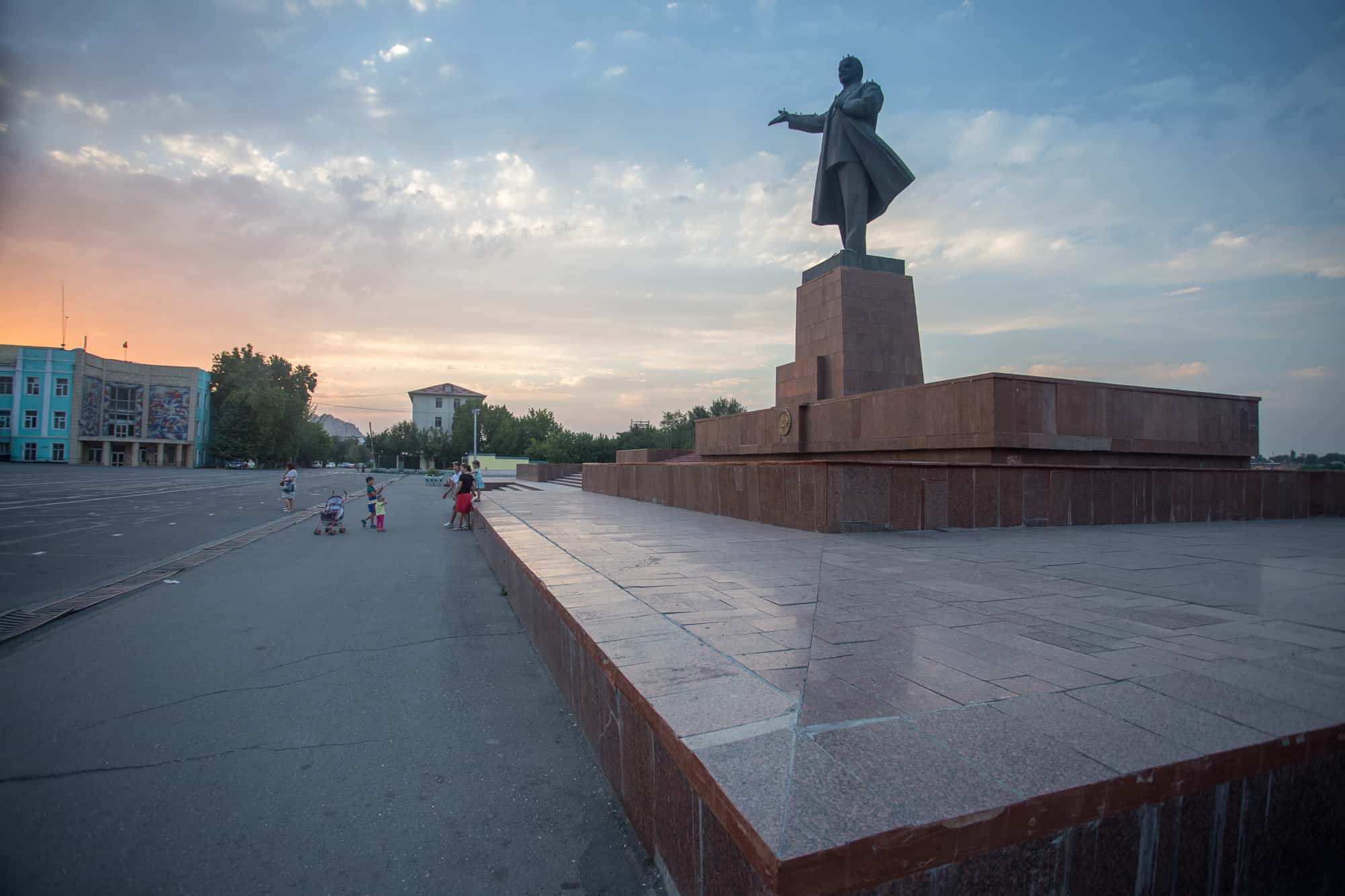 One of the largest Lenin statues in the world, and certainly the largest Lenin statue still standing in Central Asia, the Lenin Monument in Osh should draw anyone interested in Soviet history through the wide and spacious Osh central square, where its presence is unmistakable. The statue stands 25 to 30 meters tall and faces a huge billowing Kyrgyz flag, the mayor's office, and City Hall. For a local's perspective on Osh's history, sign up for our Free Walking Tour and we will offer some background on the statue, as well as other important local sites.
Lenin Avenue between Klubnaya and Zadneprovskaya Streets
Public space, open all the time
Memorials in Zadnepetrovskogo Park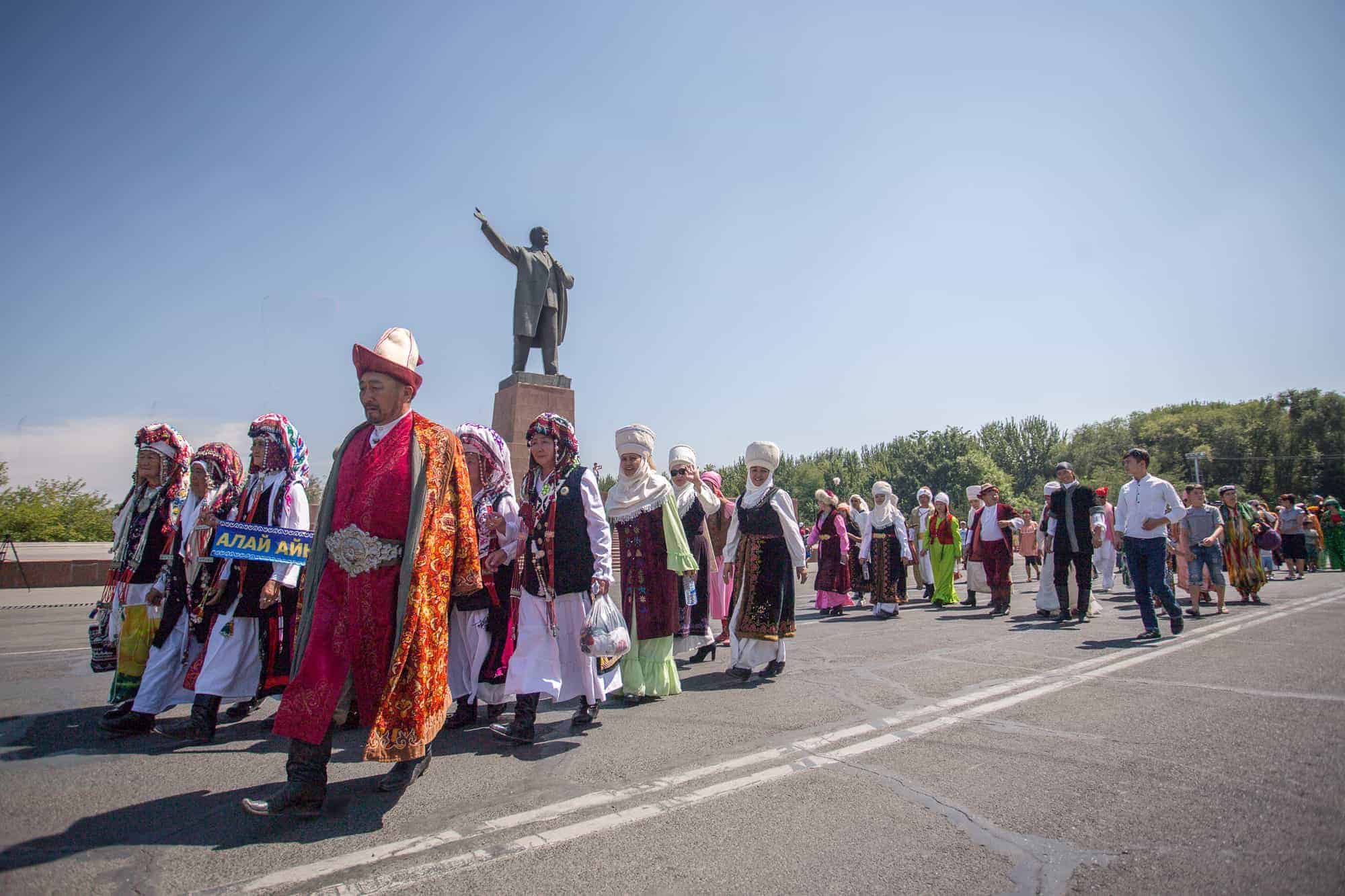 In Zadnepetrovskogo Park near the big Lenin Monument you'll find a series of important memorials — known as the "Complex of Memorials" — that recognize important events and pay tribute to local people who lost their lives.
The Eternal Fire for the Victims of the Great Patriotic War: You will find World War II memorials in most cities in the former Soviet Union as the loss of life from this war was horrific and tragic, impacting almost every family. This memorial with an eternal flame honors the soldiers and others who died in World War II and recognizes this great loss to their families and country. The quote in Russian and Kyrgyz says, "Nobody is forgotten, nothing is forgotten." If you happen to visit Osh on Victory Day (May 9) be sure to go down to the memorial to watch the dedications and military processions.
Chernobyl Memorial: It may be surprising to see a memorial for the Chernobyl nuclear power plant disaster in Ukraine all the way in southern Kyrgyzstan, but people from throughout the Soviet Union (including an estimated 4,000 from Kyrgyzstan) were sent to Ukraine as "liquidators" to assist with containing and cleaning up the site. This memorial commemorates the victims of the Chernobyl disaster and the liquidators from throughout the Soviet Union, including those from Osh, who went to assist the cleanup. Many lost their lives there — and elsewhere in the years that followed due to health problems. More on the story of Kyrgyzstan's Chernobyl liquidators here.
The Tears of Mother: This memorial is for those who lost their lives in the ethnic clashes between Kyrgyz and Uzbeks in what is now known as the June Events of 2010. The monument represents two women, one Kyrgyz and one Uzbek (indicated by the style of their dress) hugging each other and crying. The gravestone lists the names of those who died between 10-14 June, 2010. It's important to note that the topic of these clashes is still a delicate and personal matter for local citizens, with different sides of the story and blame still circulating. What is for sure is that everyone feels that these clashes are considered a dark page of the new millennium for Osh. We mention this as travelers might find it difficult to discuss the June Events of 2010 with local people since it is still a sensitive topic. Today, Uzbeks and Kyrgyz live in peace again in Osh, just as they did for hundreds of years, and they consider the mistakes of June 2010 as lessons for the future.
Note: To understand more about these memorials and their importance to Osh's history and present day, sign up for our Free Walking Tour and we'll share the stories behind the memorials, as well as other important local sites.

Near Lenin Statue at the corner of Lenin Avenue and Zadneprovskaya Street
Public space, open all the time
Soviet Murals and Public Art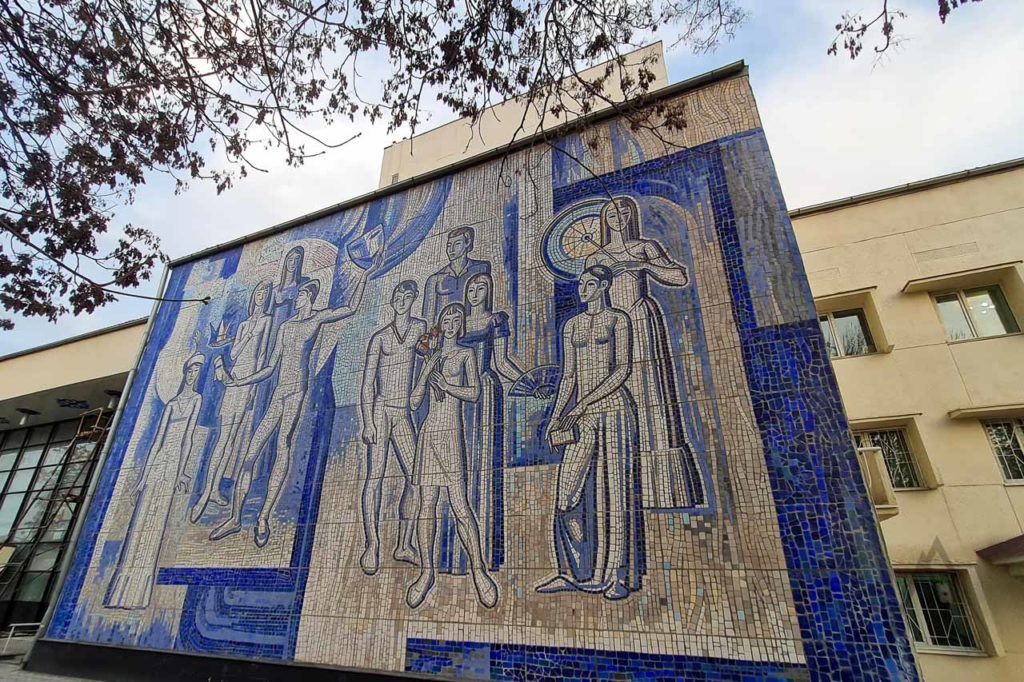 What began as a beautification effort during the Soviet-era construction boom, the murals that remain in Osh are a fascinating remnant of recent history. Six colorful, tiled mosaics dot their way across the city center area (are all walking distance from the Lenin Statue). Designed by artists and sculptors at the time, each one most often represented Soviet ideology paired with Kyrgyz symbols and ornamentation. From the iconic 1980s Olympic bear to a mural glorifying labor, these mosaics stand as a distinct modern element that is unique among most post-Soviet cities. Aussie blogger Michael shares more about Osh's murals and also made a handy Google Map with each location. For a local's perspective on Osh's Soviet history, sign up for our Free Walking Tour, where we'll visit several of these mosaics.
Suggested locations for spotting Soviet Art:
The Cathedral of Archangel Michael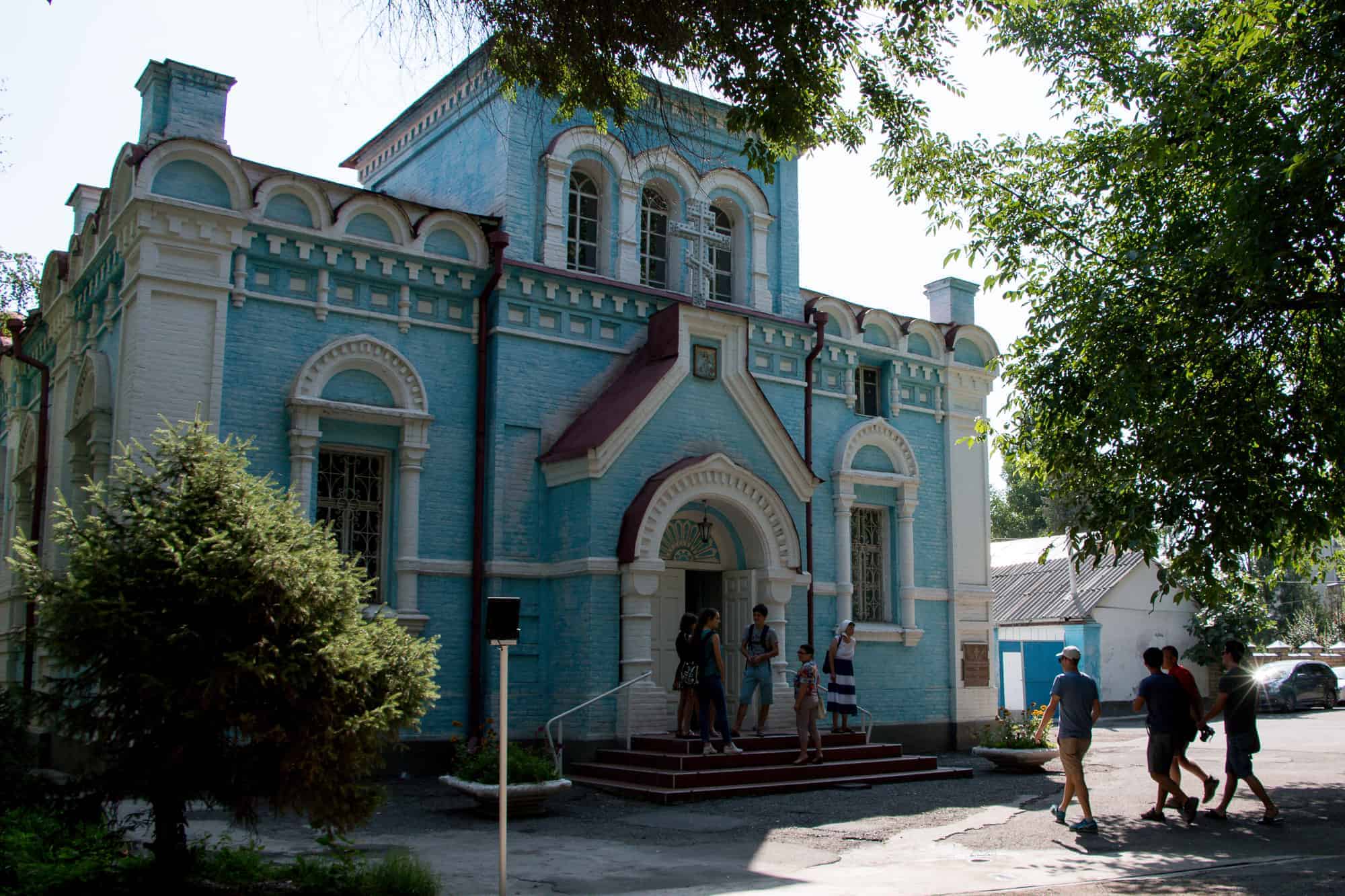 Named after the Archangel Michael, this Russian Orthodox Cathedral was established in 1909 after it was rebuilt and enlarged from its first church building from 1877 that hosted Russian soldiers and migrants. During Soviet times the church served as a House of Culture and Philharmonie. It was given back to the Orthodox community and restored to its original purpose in 1992. After the collapse of the USSR, the migration of Russian and Slavic people started as many were looking for better economic opportunities in either Bishkek or Russia. Today, the church serves not only a spiritual center, but also as a cultural one for Osh's existing Russian population. The few remaining Russian families use the Cathedral for prayers and services, as well as to hold meetings and activities with the small community. In addition, the cathedral also hosts an elementary, middle and high school that is considered a high quality of education and therefore attracts even non-Christian Kyrgyz and Uzbek children. You can learn more about the Cathedral and its community on the free walking tour of Osh. Note: Scarves and skirts are provided near the entrance for women. Men should avoid visiting in shorts.
Asrankulova Street between Lenin Avenue and Kurmanjan Datka Street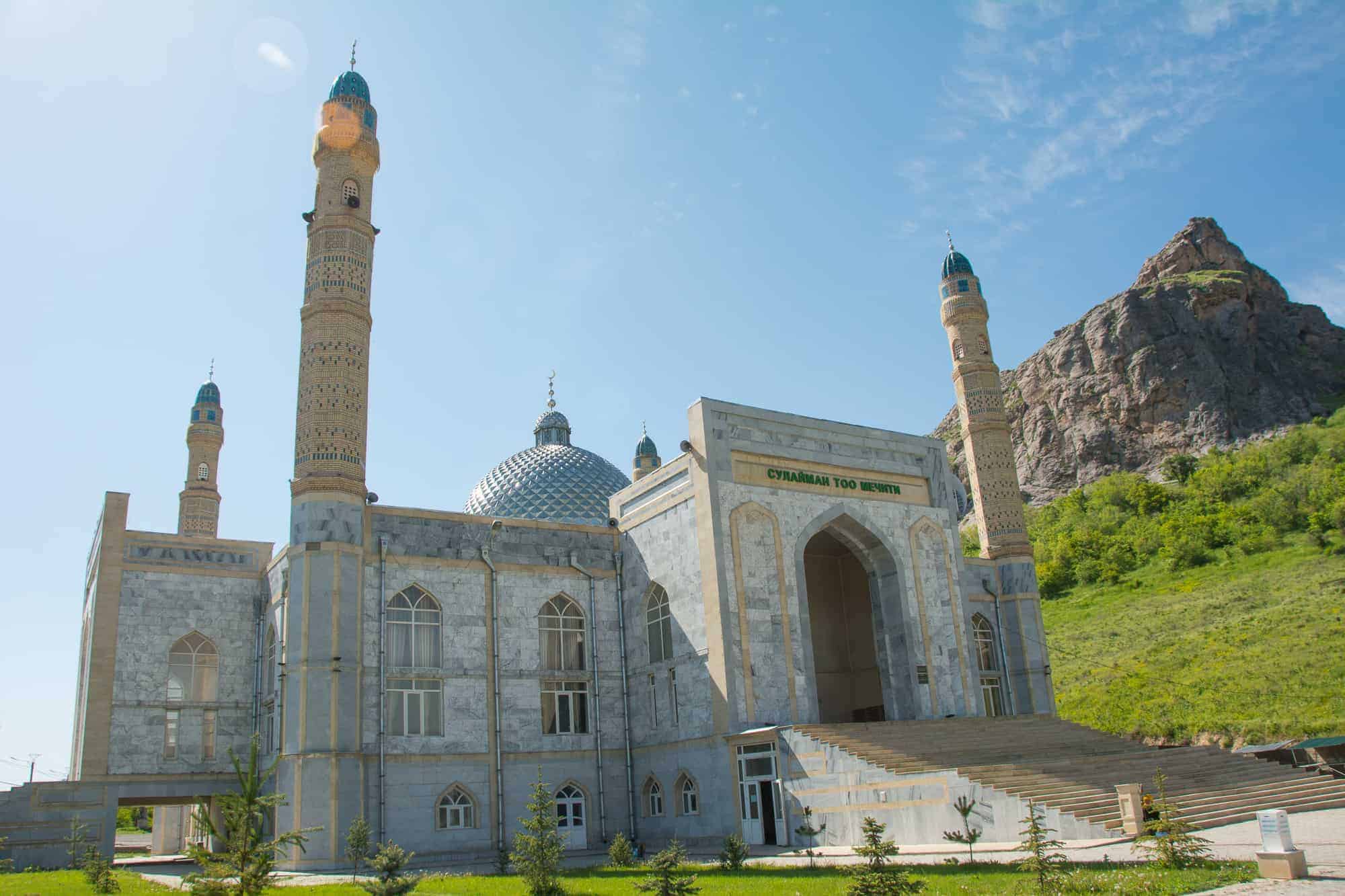 Located just below Sulaiman-Too Mountain, Osh's largest mosque was built recently and holds around 1,000 people. It provides dramatic views of the sacred mountain behind that is still a Muslim pilgrimage site. Note: Women are not allowed to enter the building. Men should avoid wearing shorts.
On Gapar Aytiev Street at the end of Pahta-Abadskaya Street
Sunrise until evening prayer, from 19:00 - 22:20 depending upon the season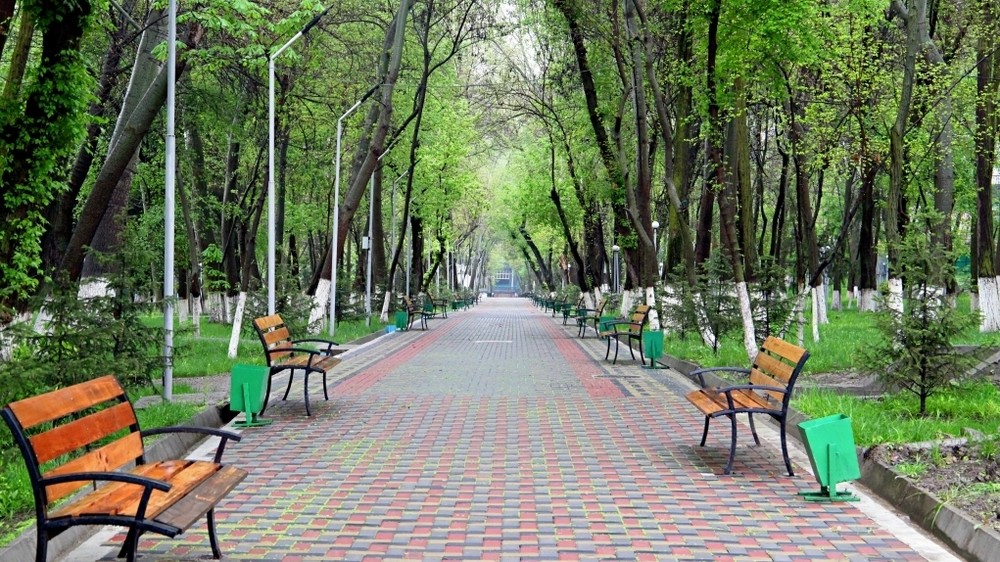 Osh is filled with green spaces throughout the city that are actively used and frequented by local people. For travelers these parks not only are pleasant places to walk and relax surrounded by trees and green space, but they also are great places to engage with and meet locals who are out with their family and friends enjoying the games, tea houses, and walking paths of the parks.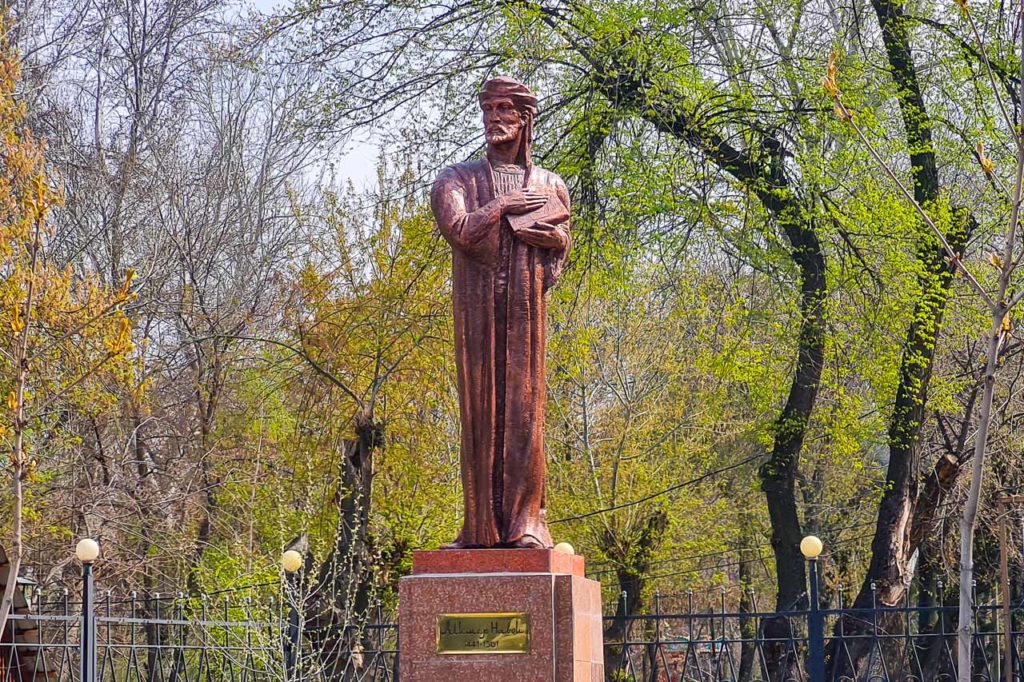 The most socially active park of those located in Osh's walkable, central downtown area, Navoi Park stretches north along Lenin Avenue with a jumble of tall oak trees and shady paths that parallel the Ak-Buura River. Named after a Turkic poet from the 15th century, the park has a number of small amusement rides and great cafes (including one shaded by a very cool decommissioned Yak 40 airplane). You'll find ping pong tables ideal for youngsters, chess-tables for those ready for a serious challenge, and you'll sight local families enjoying the amusement park games and sitting side-by-side on the many park benches.
Between Lenin Avenue and the Ak-Buura River
Always open, public space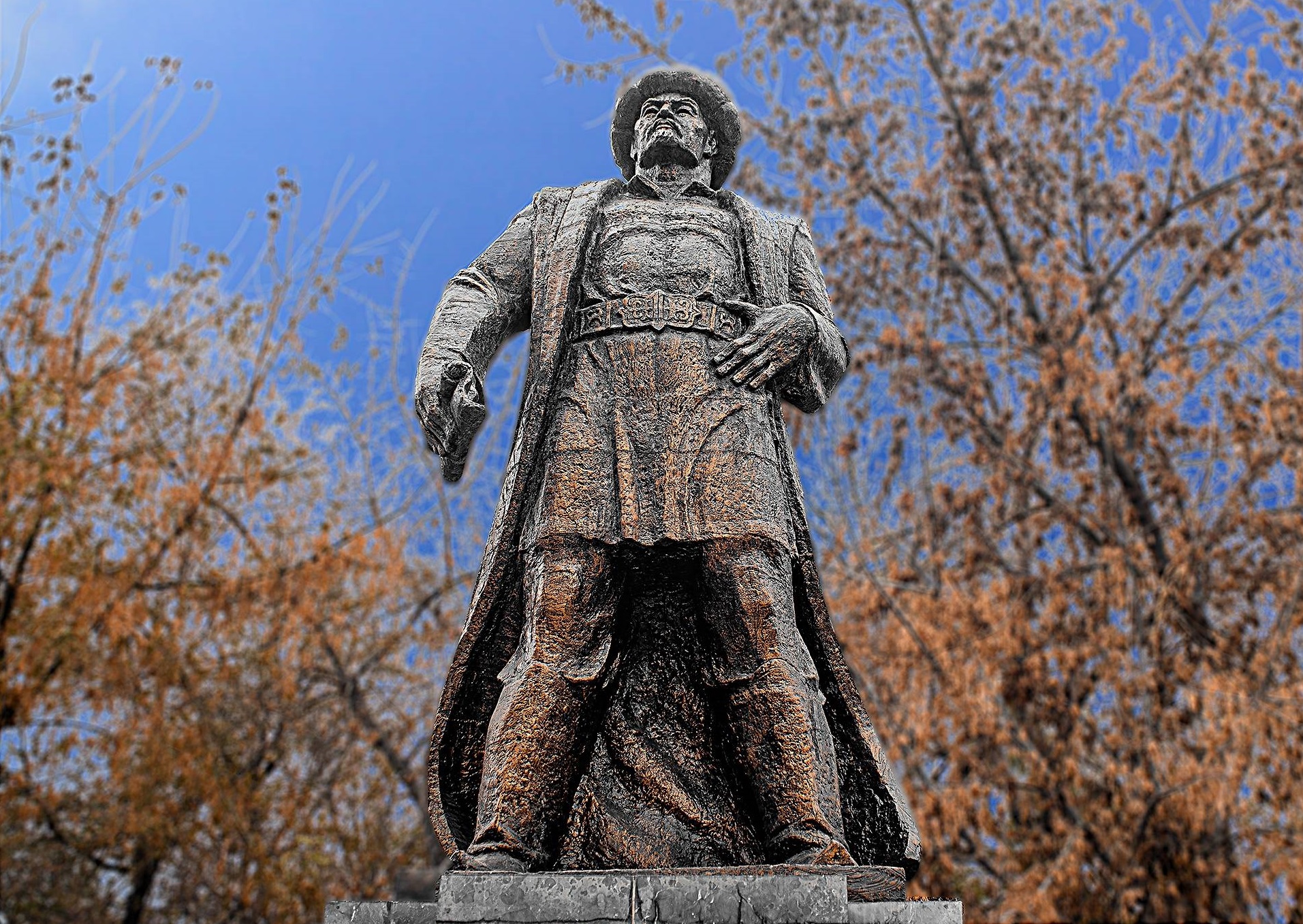 Located at the base of Sulaiman-Too Mountain, Alymbek Datka park represents a complex of activities and things to do and places eat. It's delightfully shady, with a pleasant ambiance as music, laughter, and the scent of food fills the air (both national and foreign cuisine on offer). With fountains and games, it makes for a nice place to wander and experience local life. The three-story yurt was first built in 1995 in celebration of the 1,000 year anniversary of the Kyrgyz epic poem, Manas. Today it houses an exhibition about 19th-century Kyrgyz heroes Alymbek and Kurmanjan Datka (she is considered a hero of freedom for Kyrgyz women). Alymbek Datka Park is also a popular place for wedding photoshoots, so if you're lucky you might catch sight of a colorful local wedding.
Around 266 Kurmanjan-Datka Street at the intersection with Sulaimanov Street at the base of Sulaiman-Too Mountain
80 KGS/person (+ 10 KGS photo fee)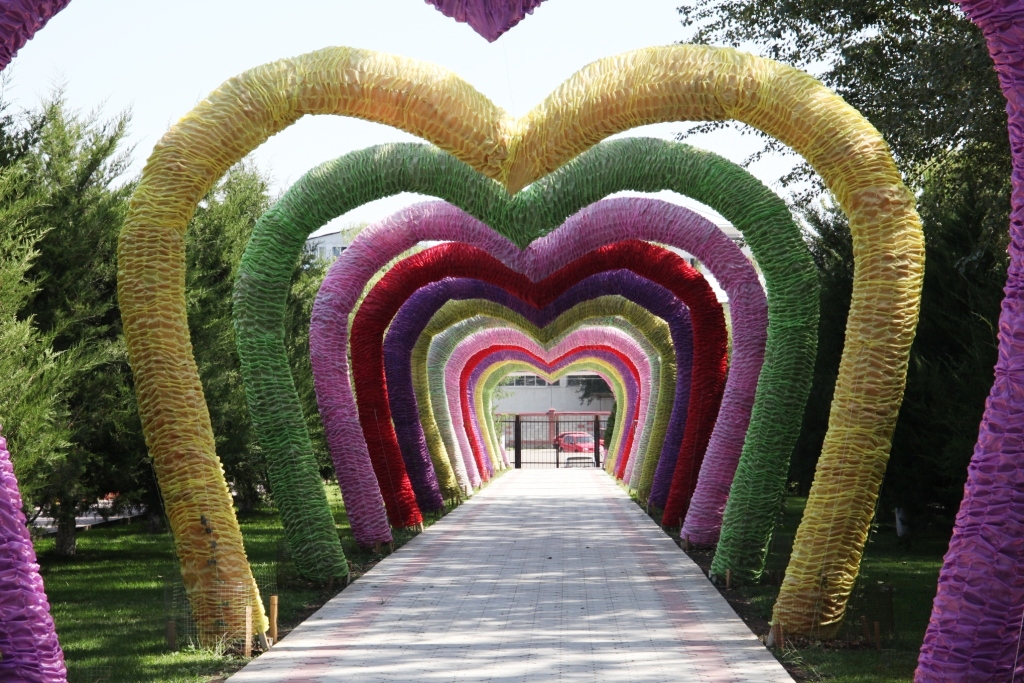 Located just behind the Lenin Statue in Osh's central square, the Park of Love is an elaborate ode to love. Renovated in 2017, this park contains a long corridor of colorful heart-shaped arches (a favorite Instagram-worthy spot for locals and tourists alike), a miniature version of the Eiffel tower, and piles of flowers, gardens, and a huge central fountain. Don't forget your camera when you wander through this fun park, especially since you're likely to stumble across a wedding or two.
Lenin Avenue behind the Lenin Monument
In addition to the Sulaiman-Too Historical Museum and the Alymbek and Kurmanjan Datka Museum (in the three-story yurt in Alymbek Datka Park) mentioned above, here are other museums in Osh that might be of interest to travelers.
Turgunbai Sydykov Museum of Fine Arts
Established in 2004 by the Ministry of Culture, Information and Tourism, the Turgunbai Sydykov Museum of Fine Arts was the brainchild of Turgunabai Sadykov, a local academic. The permanent exhibits carry a range of art styles, from socialist realism to Central Asia modern, and include work from Kyrgyz artisans in a variety of mediums such as sculptures, paintings, decorative, and applied arts. Be sure to check the museum's schedule as it occasionally hosts thematic exhibits.

Col Onorchulor Street (base of Sulaiman-Too Mountain), near the Ravvat Abdullahana Mosque

;