The rich, ancient history and striking beauty of the Fergana Valley is on full display when you venture outside of Osh to the towns and national parks within easy day-trip distance of the city. If you've taken the Osh Walking Tour then you're primed with the history and backstory that you'll need to fully appreciate the ancient towns, museums, petroglyphs, and ruins outside of Osh. Although some travelers head straight to the treks around Osh — and we understand why, they are fantastic! — these day trips showcase everything from sacred waterfalls to bustling local markets to winter ski adventures. You'd miss a fascinating part of Kyrgyzstan's cultural heritage if you left before venturing deeper into the fertile, fascinating Fergana Valley, and the outer edges of the Alay Mountains.
Visit the Osh Transportation page for detailed information on how to navigate Osh and the surrounding area via marshrutka, shared taxi, or private transportation.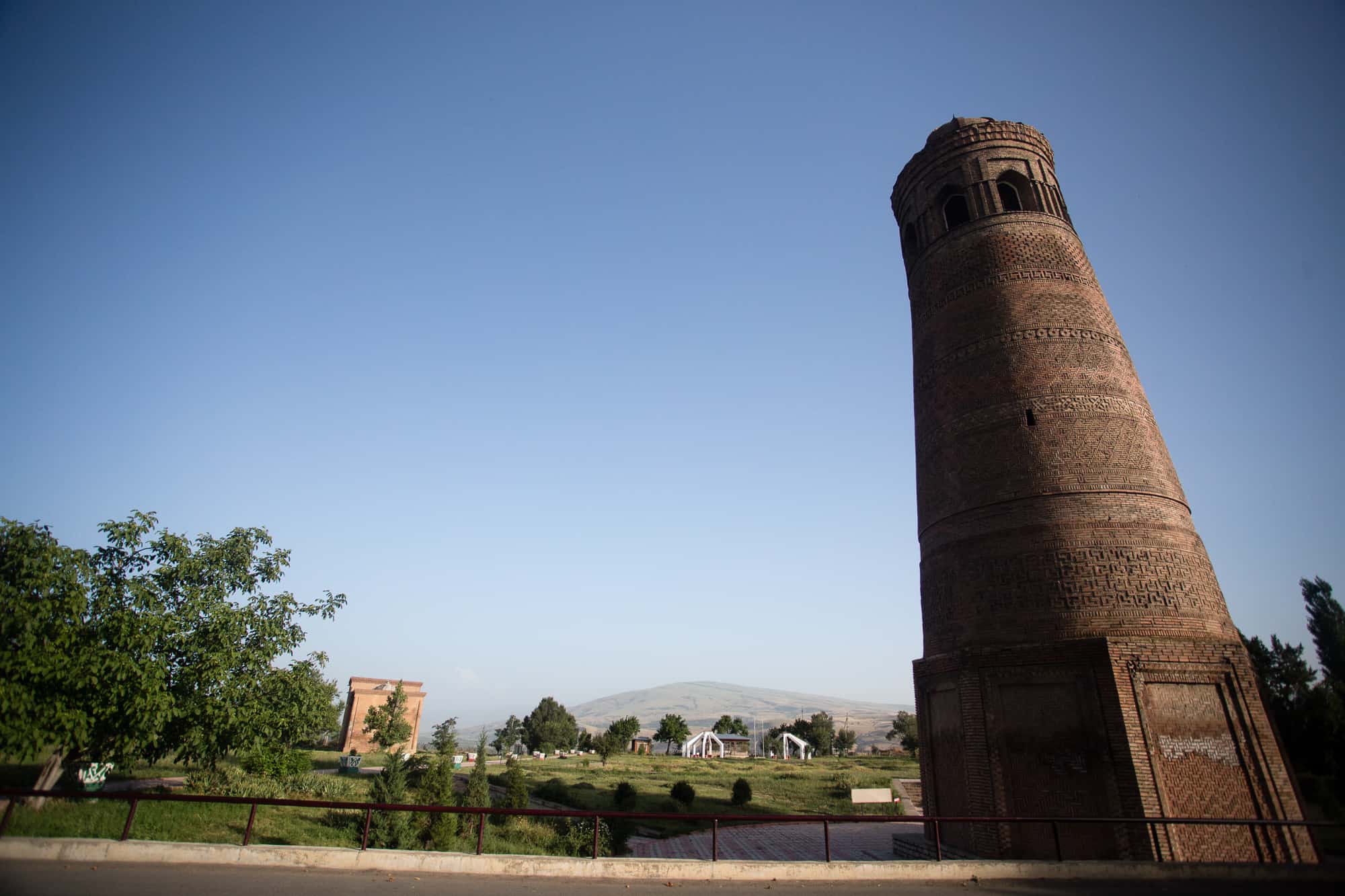 Travelers are just beginning to rediscover the fascinating ancient city of Uzgen, which is an easy day-trip distance from Osh. There's enough to see, do, and experience in Uzgen that you'll likely want a full day exploring this ancient town. Weave through the winding alleys of Uzgen Bazaar, visit an ancient rice mill to discover why Uzgen rice is the secret ingredient that makes local plov so tasty, and dive into the city's rich Islamic and Silk Road history with a visit to the Uzgen Archaeological-Architectural Museum Complex. View our full guide to exploring Uzgen, where we share details on each of the city's main sights, as well as activities and tours to help you discover and enjoy Uzgen
How to visit Uzgen: Located northeast of Osh, Uzgen can be explored independently using our online guide, or via a day- or multi-day tour with Osh Travel, which adds even more historical context to this fascinating site. The entire town is easily explored on foot once you're there. To get to Uzgen from Osh city center, take a taxi from the entrance to Kelechek Bazaar (on Masaliev Street). Shared taxis cost 100 som person each way while marshrutkas leave frequently during the day from the New Bus Station (Noviy Avtovokzal) for 50 som/person each way.
Museum Complex Hours: Summer: 8:00 - 20:00; Winter 9:00 - 17:00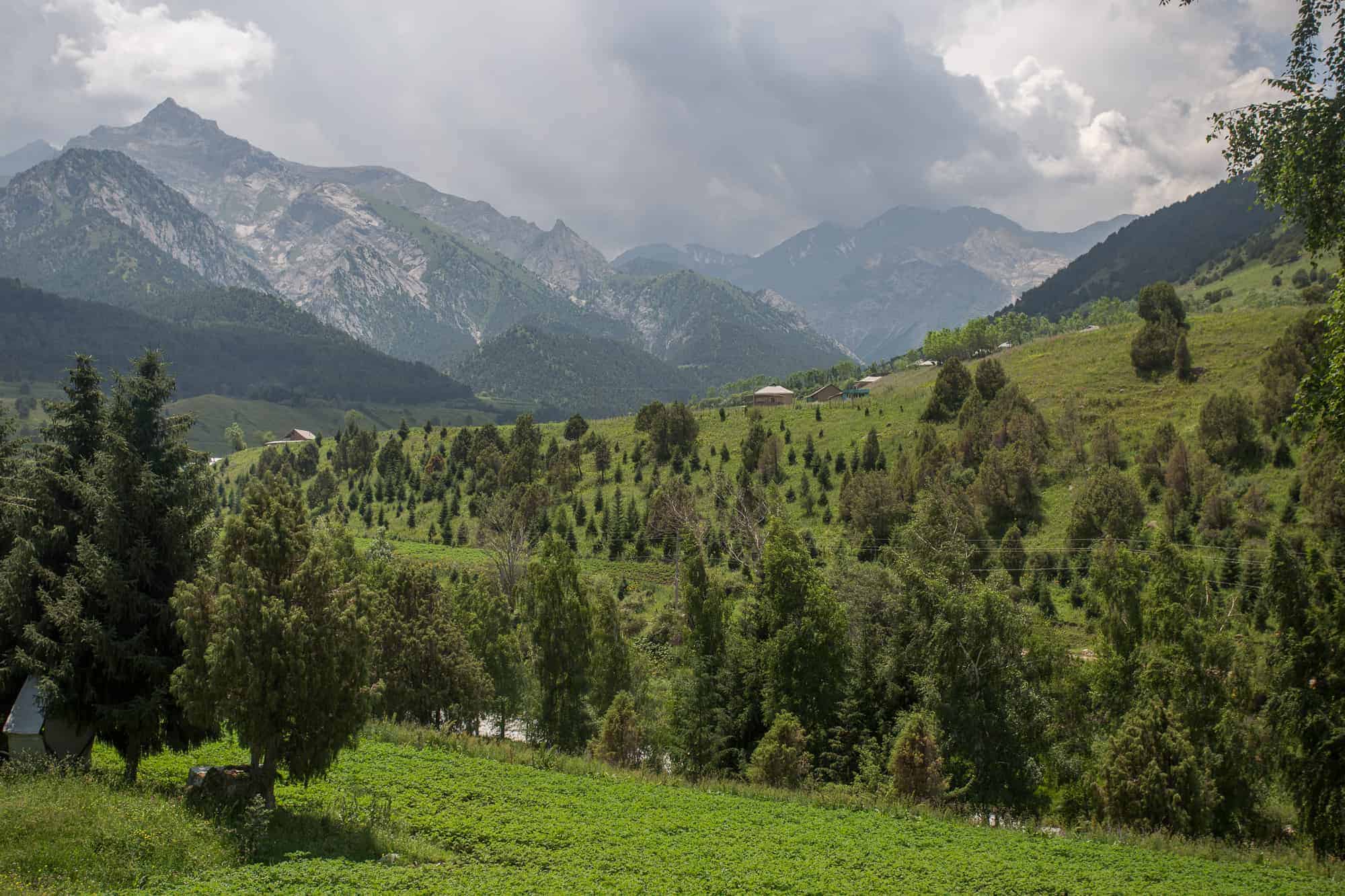 The beautiful juniper forests, turquoise streams, and range of cultural and outdoor activities make Kyrgyz-Ata National Park a fascinating and fun day trip. The area is located 40km from Osh along the northern slope of the Pamir-Alay mountain range. Plan a half-, full- or multi-day excursion to the park for light hiking, horse trekking, or a nomadic cultural experience. The customizable cultural day tour makes a fantastic large-group activity and includes horse games on the jailoo, national folk music, and a traditional nomadic lunch in a yurt. Overnights at the yurt camp in the park are also possible.
How to visit Kyrgyz-Ata: Self-guided treks in the park are possible, or book a guided hike (and/or lunch) for a complete experience. Located 40km from Osh, to get there you should book a private transfer (round-trip) for 4,000 to 6,000 som, depending on the number of people and size of car needed. A trekking guide costs 2,000 som, horseback riding is 300 som/hour, and an English-speaking guide costs 400 som/hour. Overnights at the yurt or guesthouse cost 700 som per person. Entrance to the park costs 150 som/person. Contact Destination Osh to book this Day as a Nomad tour complete with horse games, lunch in a yurt, traditional music, hiking and more in the national park
Kurmanjan Datka Museum of History and Ethnography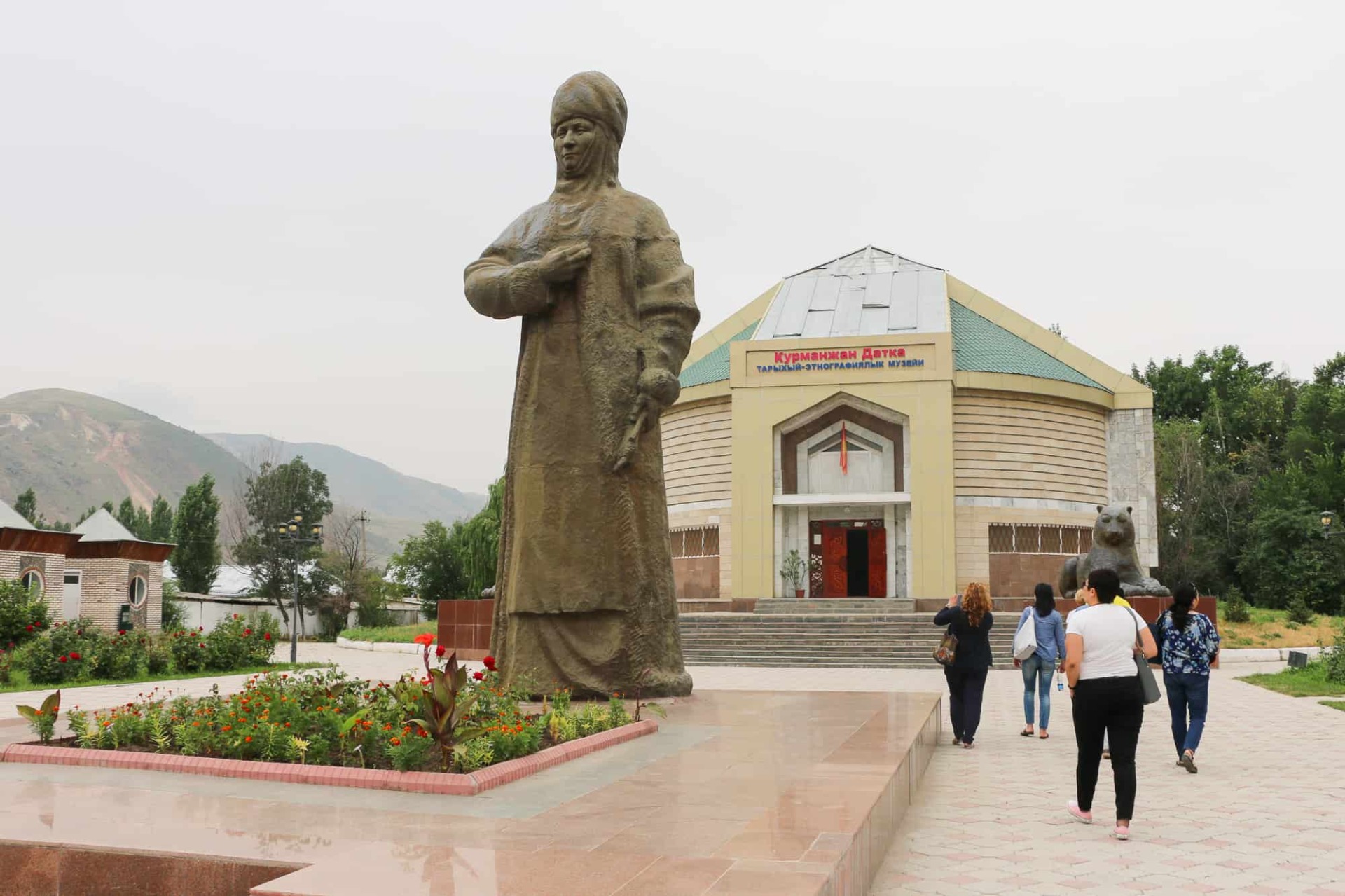 This easy day trip from Osh is located in Gulcha village in the Alay region, where a three-story museum is constructed to look like a large yurt. A seven meter high monument of Kurmanjan Datka greets visitors before entering the museum, where more than 3,200 artifacts document the life and importance of this revered national hero. Kurmanjan Datka is considered to be a hero and representation of freedom to Kyrgyz people (read more on why here). She broke gender norms in the mid 1800s and would go on to rule the Alay region. By the end of her life, she was perhaps best known for her remarkable diplomacy. (Note: if you want to learn even more about Kurmanjan Datka seek out the movie Queen of the Mountains documenting her life and story.)
Thanks to funding and support from USAID BGI, the museum now houses an artisan center where visitors can participate in making traditional crafts of felt, leather, and wool. She is such a beloved female hero that newlyweds in the community visit the museum to pay their respect and honors to the Queen of the Alay
How to visit the museum: Shared taxis and buses leave via the Old Bus Station (Stariy Avtovokzal) in Osh city center (under Dostuk Bridge near the entrance to Jayma Bazaar). Shared taxis are also available at the intersection of Navoi and Masaliev streets, at the entrance to Kelechek Market. A shared taxi costs an average of 150 som per person.
Address: Alai raion, Gulcha Village, 24 Kurmandjan Datka Street
Hours: 9:00-18:00 in winter; 9:00-20:00 in spring and summer
This small town is located just 87km from Osh and has enough things to do for a full-day trip from the city. Once a village most known for industrial coal mining in the late 19th century, Kyzyl Kiya then witnessed a prosperity due to the arrival of a railroad. It was upgraded to "town" status in the 1930s, and that's when this charming town stopped growing. Today, it's a lovely place to experience small-town Kyrgyz life, enjoy tea at one of the many chaikhanas, shop for traditional southern woven carpets, or scout out antiques at the Sunday market. The Kyzyl Kiya History Museum opened in 1974 and is curated by local history teachers — it features artifacts from southern Kyrgyz culture, as well as Russian and Ukrainian migrant cultures. Among the most popular activities, however, is most definitely the Abshyr-Ata Waterfall. Open year-round, interested travelers can join local pilgrims at the healing waters of this sacred, cliff-face waterfall. Several local cafes and home stays make an easy overnight possible. If you plan this as a day trip, you should consider hiring a driver for the day to explore the various sights and have guaranteed transport back to Osh.
How to get to Kyzyl Kiya: Located on the Osh-Batken road, Kyzyl Kiya is serviced by shared taxis that depart from Osh's New Bus Station (Noviy Avtovokzal) and Zapadniy Micro-District along Osmonov Street. Expect to pay between 150 to 200 som one-way per person. Alternatively, contact Destination Osh and we can help you arrange private round-trip transportation.
Museum hours: 9:00 - 16:00 (If you'd like to visit outside of those hours, contact Destination Osh — the museum has agreed to open for visitors if notified ahead of time.)
Take a journey back in time when you visit the petroglyphs in Aravan village, located just 27km west of Osh. Some petroglyphs date to the 1st century BC and show a range of animals important to the ancient cultures inhabiting the Fergana Valley, including mountain goats, horses, and wild animals. It's the horses that have given these petroglyphs their name as the "Celestial Horses of Aravan" — the cliff-face carvings have retained a remarkable amount of color and detail. The petroglyphs are well-marked in town. This was a sacred site for the Zoroastrians, who celebrated Norouz here (Muslim New Year). Local pilgrims visit to ask for fertility, while others can surely enjoy the fascinating history and artistic nature of the site, which is well-marked when you arrive.
How to visit the petroglyphs: Osh Travel, a founding member of Destination Osh, runs tours to the petroglyphs. You can also Contact Destination Osh to book a tour. Alternatively, Campalay Tour Company also runs tours to Aravan. Independent travelers can hire a private taxi for 200 som per car (holds four people). Marshrutkas leave from the New Bus Station (Noviy Avtovokzal) and cost about 30 som per person.
Skiing and Winter Activities
Winter is a beautiful time to visit Kyrgyzstan, and winter sports are popular in the region. Karakol and Jyrgalan are the country's best known spots for ski resorts and freeride skiing, and these locations have the most extensive traveler-friendly winter sports activities (including gear rental, slopes, and more). However, locals to the region, or those traveling with their ski gear, can enjoy ski tours and winter activities in nearby Sary Tash. Shamurat Matiev, a local mountain guide, runs a guesthouse in Sary Tash and offers a range of slopes suitable for anyone from beginners to extreme sports lovers. Book into his cozy guesthouse and you'll have access to Kyrgyz specialties that are only available in the colder months, such as the warm and filling korot soup.

How to enjoy winter activities in Sary Tash: Contact Destination Osh directly to arrange ski activities and tours in Sary Tash.

;