Osh is a large multicultural city with a diverse and vibrant food culture. The city's centuries of prominence on the Great Silk Road brought to the city an abundance of flavors, dishes, and customs that remain to this day. It's this diversity of cuisine and influences from across the region and globe that ensures vegetarian travelers will not go hungry during their time in Osh.
Although Kyrgyz cuisine is traditionally quite meat-centric, locals use a surprising variety of fresh local vegetables to create delicious savory meals, light and flavorful salads, and platters of beautifully ripened fruits. Although the concept of vegetarianism is little understood in Osh, the culture of extreme hospitality that has been the byword of Osh for centuries guarantees that locals will go out of their way to help you find dishes that you can not only eat, but deeply enjoy.
Allow this vegetarian guide serve as your first official welcome to Osh, but not your only one. Destination Osh's food tours are all run by locals and can all be enjoyed entirely vegetarian. Join the Vegetarian Osh Foodie Tour when you first arrive to better understand how to find and enjoy Osh's incredible cuisine. Join the Plov Journey for a tasty vegetarian spin on the region's most beloved dish. And learn from a master baker the secrets behind making lepyoshka, one of the most popular breads in Central Asia.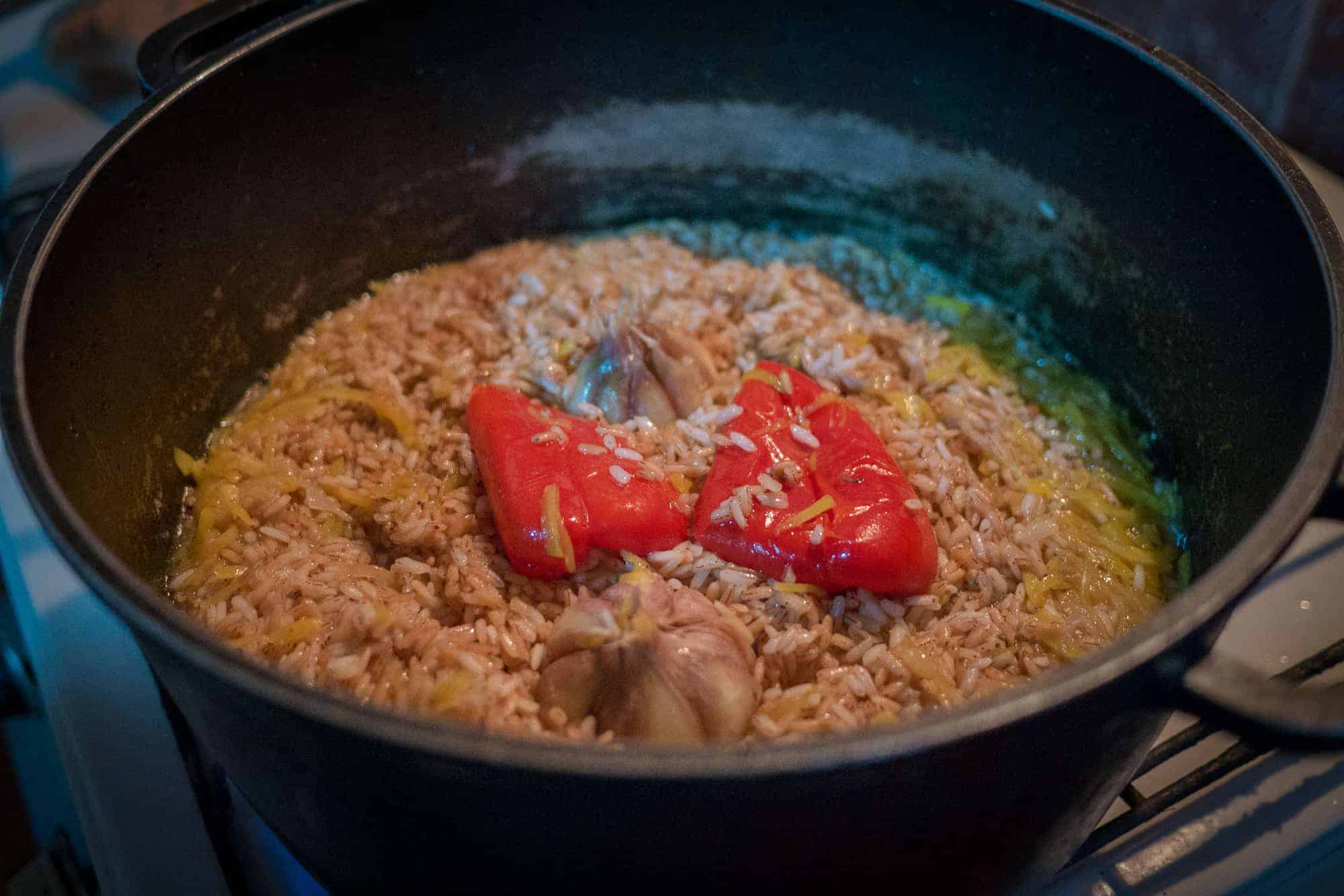 A delicious plate of homemade vegetarian plov from the Vegetarian Plov Journey cooking class.
How to Find Vegetarian Food in Osh
Guesthouses: Many guesthouses across the city can more reliably prepare vegetarian food than local restaurants. Guesthouses and hotels that serve meals host travelers from all over the world and their staff are generally more accustomed to meeting the dietary restrictions of international travelers. You may find that booking a meal at your guesthouse or hotel allows you to eat a wider variety of vegetarian-prepared dishes. Most guesthouses require several hours advance notice, however, to serve a fully vegetarian meal; you should always communicate your dietary requirements at the time of booking, if possible.
If you've booked accommodation with a shared kitchen, you can also head to the lively markets and bazaars for a large selection of beautiful fruit and vegetables — you can easily find enough variety to prepare a feast.
Restaurants: Most restaurants in Osh receive so few vegetarians that it can present challenges for traveling vegetarians — the concept is simply not widely understood. For that reason, and particularly if you're traveling in a large group, you should have your guesthouse call the restaurant a few hours ahead of time to communicate your precise needs. That said, don't be afraid to show up at a restaurant and order a certain dishes meatless — a few of the dishes noted below can often be prepared vegetarian quiet easily, or the cook will prepare something new, unexpected, but still deliciously vegetarian!
Of the vegetarian-friendly options in Osh, ETNO Cafe stands out for its ability to reliably serve a selection of dishes entirely vegetarian or vegan, and Brio Cafe similarly understands the needs of vegetarian travelers and serves lighter fare — salads, sandwiches, and pastries. Shanghai City (the restaurant on the ground floor of the hotel of the same name) also offers a wide variety of vegetarian dishes. However, be sure to communicate your wishes in the restaurant and get help from the front-desk staff if necessary. Dolce Vita is an Italian restaurant that could surely serve something simple so long as you bring your Russian translations, as English is not guaranteed. And lastly, Oybek Mantykana serves two vegetarian dishes on the menu year-round, a vegetarian maida manti, and samsa — again, however, bring your Russian translations as English is not understood.
Markets: Like all of Central Asia, the bazaars in Osh offer an abundance of dried fruits and flavorful nuts. It's quite easy for vegetarians to keep a range of healthy and hearty snacks on hand since street food and quick eats will not often accommodate vegetarian travelers. Dried fruits and nuts make great fuel for travel days, trekking days, or days spent sightseeing across the city.
Treks and Tours: All guided treks and tours in the region can accommodate vegetarian travelers. Guides and cooks are well-trained to understand international dietary restrictions and, with clear instructions and advance notice at the time of booking the trek, can provide a fully vegetarian diet for trekkers. Likewise, guided tours and day trips, particularly those listed throughout the site, accommodate vegetarian travelers. Simply notify Destination Osh at the time of booking and the team will communicate with your guides.
Vegetarian Expressions and Russian Translations
Osh is a city where locals go out of their way to help you enjoy your time in their city. Although vegetarianism is not well understood, locals will work with you when possible, once they understand your food restrictions. The chart below shares a list of helpful vegetarian questions and phrases. If you speak a little Russian you can sound these out at restaurants, otherwise print or screenshot this chart for use with the restaurants and vendors in Osh.
Simply telling wait staff that you are vegetarian will not guarantee you vegetarian food in most places. Use these phrases to clarify what you are looking for and what you would like to avoid.
Recommended Vegetarian Dishes in Osh
The biggest obstacle facing vegetarians in Central Asia is the prevalent use of lard and animal products in the broth and sauces of many dishes. Of Kyrgyzstan's most popular cities with travelers, Osh and Karakol reliably provide vegetarian travelers with the most options and support. Destination Osh's food tours are truly an excellent starting point for travelers as the Destination Osh team has a nuanced understanding international dietary restrictions and can help you find and sample the best foods that meet your needs, as well as identify the dishes that will become your best "go to" options at restaurants, cafes, and guesthouses across the country.
The foods below should act as a starting point for your time in Osh — these are local specialities that you are most likely to find prepared and served vegetarian by request.
Flavorful salads from a variety of local, seasonal vegetables act as a side dish to many of the most popular Kyrgyz meals. Quite different from Western lettuce-based salads, Kyrgyz chopped salads are often inherently vegetarian. A combination of tomato, onion, and cucumber form the base of most salads, although salads may also include carrots, cabbage, and any seasonal vegetables. A fragrant vinegar broth and seasonings form the base of most salads. Although not intended as a main meal, these fresh salads (called svejiy or Свежий) are a great addition to a vegetarian meal.
Manti are simply steamed dumplings, and maida manti are a specific, petite version of this dumpling dish completely unique to Osh — you won't find it anywhere else. Maida manti is prepared by rolling a pinch of potato between two very thin squares of dough. To complete the flavor profile, restaurants serve maida manti with any or all of the following: spiced red onions, savory vinegar, chili pepper flakes, sour cream. It's prepared without any animal products, meaning it's inherently vegan in nearly all traditional preparations (the sour cream is always served on the side).
Note: Regular manti served in markets and restaurants are rarely prepared vegetarian (lard is often added even to seemingly vegetarian versions). However, most guesthouses and some restaurants will prepare vegetarian manti stuffed with either potatoes or greens (jusai), or gök chuchvara, which are small spinach-stuffed dumplings. If you visit in the right season, pumpkin-filled manti are a special treat.
Try it here: Oybek Mantykana regularly and reliably serves vegetarian manti and samsa. You can also join the Vegetarian Food Crawl, where a local will help you hunt down the best Osh eats.
Plov is a flavorful rice dish that simmers for hours in a kazan, a heavy, cast iron pan. You can find it across Central Asia, but the Osh plov variety is famous in Kyrgyzstan as it uses a unique blend of ingredients like red rice (devzira), vegetables (yellow carrot and onion), and seasonings. Traditionally, plov uses lard and bits of meat. However, it is possible to ask at your guest house whether they can prepare a vegetarian version using vegetable oil and different types of vegetables instead of meat.
Try it here: The most reliable — and we believe the tastiest — vegetarian plov is one that you learn how to cook yourself under the watchful eye of a local plov master. Sign up for the Vegetarian Plov Journey that takes you by a local fresh market and then to a family home for a vegetarian plov cooking class. Delicious!
Similar to its Indian samosa cousin, the samsa features an entirely different flavor profile and is baked in a tandoor oven. These flaky dough pastries are delicious, filling, and satisfying. It's well worth finding a vegetarian version stuffed with potatoes. Osh serves a local "mega-samsa" that is even heartier, but any version is tasty. Find one topped with sesame seeds for an extra flavor boost, then buy a few extra to carry on an upcoming trip or long travel day.
Note: The samsa served in markets and restaurants are rarely prepared vegetarian (lard is often added even to seemingly vegetarian versions).
Try it here: Oybek Mantykana regularly and reliably serves vegetarian samsa and manti.
Popular across Kyrgyzstan (and all of Central Asia for that matter), laghman is a hearty dish of hand-pulled noodles and large chunks of vegetables, brought together with a savory vinegar-based sauce. Laghman is traditionally served with meat, but many restaurants will be willing to prepare a vegetarian version if you clearly communicate your need and interest. Of note, ganfan is a dish of similar ingredients but instead is served over a bed of rice. Like laghman, it will be served with meat unless expressly communicated.
Try it here: Ask your guesthouse if you'd like to sample these dishes as no restaurants in Osh could reliably prepare them vegetarian (laghman is pre-made during the day and thus it's not possible to order it vegetarian for immediate service). If you're traveling in a group, your guesthouse can call ahead and arrange a large vegetarian meal that way).
Distinctly different than the dumplings popular in the region, oromo is a dish prepared from thin dough layers alternated with shredded vegetables (usually cabbage, onions, carrots, or greens) and then rolled and steamed. Every cook prepares the rolls with a unique flare, so it might not look the same twice, but it's tasty and filling. When ordering versions which appear vegetarian-friendly, understand that it's traditionally prepared with meat and animal fat, so you must specifically request a vegetarian version.
Try it here: Ask your guesthouse to prepare this local specialty as no restaurants in town serve it vegetarian.
Breaking bread with visitors is a long and ancient Kyrgyz tradition that remains in place today. The country's bakeries feature dozens of varieties of breads, many preparations dating back millennia to ones worked by nomads over an open fire. Visit the markets during the early morning hours to take in the sheer variety, or just look to your table during dinner as borsok, lepyoshka, and others are served at guesthouses, home stays, and restaurants.
Try it here: Book a Lepyoshka Bread-Making Experience to prepare, design, and enjoy your own Central Asian flatbread. It's a fun experience and offers insight into a one of the region's most important breads.
Fruits, Vegetables, and Nuts at the Market
The markets and bazaars in Osh offer a deep array of dried fruit and nuts. Fried fava beans are also a popular snack across the country and make for a handy, protein-rich treat. You can also stock up on the abundance of seasonal fresh fruits and vegetables. Many vendors grow and sell fruit and vegetables from their own home gardens, particularly at Teshik-Tash Bazaar and Jayma Bazaar. Depending on the season, you'll find regional specialties like apricots and cherries, alongside all the traditional options. Osh is also one of the friendliest cities in Kyrgyzstan — vendors welcome questions and often let you sample a bit before you buy. There's always enough variety that you could cook your own feast at your hostel, or stock up on items before a day trip or trek

;